Christine Wang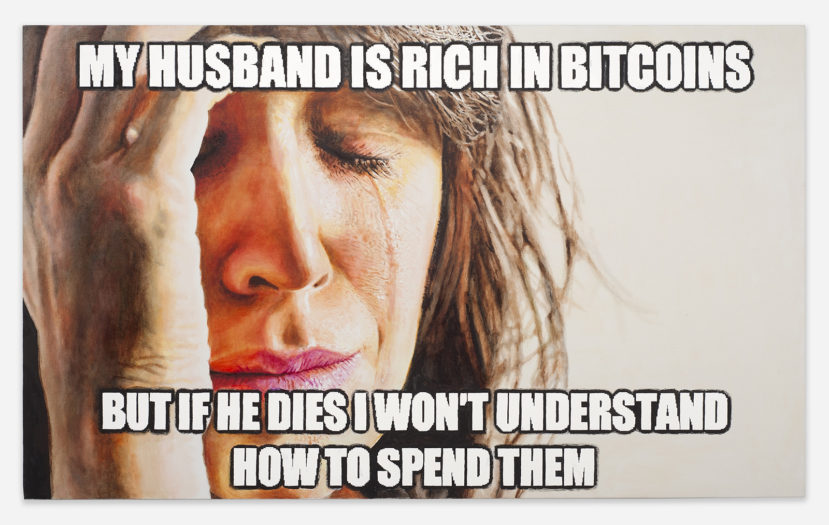 Christine Wang (b. 1985, Washington, D.C.) has recently had solo
exhibitions at Night Gallery, Los Angeles, CA; Galerie Nagel Draxler,
Cologne, Berlin, and Munich; and Ever Gold [Projects], San Francisco,
CA. Recent group exhibitions include the Frans-Haals Museum, Haarlem,
the Netherlands; Rachel Uffner Gallery, New York; M. LeBlanc Gallery,
Chicago; Et Al, San Francisco; LAXART, Los Angeles; Foxy Production,
New York; and the African American Museum, Philadephia, PA, among
others. In 2020, Wang's solo presentation at The Armory Show was
awarded the Pommery Prize; in 2019, she was a finalist for SFMoMA's
SECA Art Award, and in 2017, she was nominated for the Paulo Cunha E
Silva Art Prize. She lives and works in San Francisco.
CHRISTINE WANG
Born 1985, Washington, D.C. Lives and works in San Francisco, CA.
EDUCATION
2013 M.F.A., University of California, Los Angeles
2008 B.F.A., The Cooper Union for the Advancement of Art and Science, New York, NY
2006 The Central Academy of Fine Art, Mural Painting Department, Beijing, China
SOLO & TWO-PERSON EXHIBITIONS
2021 Solo exhibition, Night Gallery, Los Angeles, CA (forthcoming)
2020 Coronavirus memes, Galerie Nagel Draxler, Cologne, Germany
2019 Climate Change is Real. Stop Procrastinating!, two-person exhibition with Mark Dion,
Galerie Nagel Draxler, Munich, Germany
#cryptomemes: Women and Leo DiCaprio, Ever Gold [Projects], Oakland, CA
2018 Crypto-Rich, Nagel Draxler Kabinett, Berlin, Germany
"Twilight," Magenta Plains, New York, NY
RELOCATION TAROT, Ever Gold [Projects], San Francisco, CA
2017 Actions speak louder than fonts, Galerie Nagel Draxler, Berlin, Germany
2016 Devotional Art for Your Home, Night Gallery, Los Angeles, CA
2015 LA:FURN, Reisebürogalerie, Cologne, Germany
2014 I Want That Bag, Night Gallery, Los Angeles, CA
2012 Repetition Compulsion, with Abigail DeVille, Night Gallery, Los Angeles, CA
2008 Just Painted, with Thompson Harris, The Cooper Union, New York, NY
2007 Paintings That I Made In China But That Are Not About China, The Cooper Union, New
York, NY
SELECTED GROUP EXHIBITIONS
2020 Image Power (from the exhibition trilogy The Art of Critique), Frans-Hals-Museum,
Haarlem, Netherlands
Majeure Force, Night Gallery, Los Angeles, CA
Hollywood Babylon, BADD House, Los Angeles, CA
2019 Gold Standard / 10 Year Anniversary Exhibition, Ever Gold [Projects], Oakland, CA
2018 tears then holes, Rachel Ufner Gallery, New York, NY
2017 Silhouette, curated by Kevin Krueger and Aaron Harbour, Et Al., San Francisco, CA
Reconstitution, LAXART, Los Angeles, CA
The History Show, Foxy Production, New York, NY
2016 Arresting Patterns: Perspectives on Race, Criminal Justice, Artistic Expression, and
Community, African American Museum in Philadelphia, PA
Global Terror, Galerie Nagel Draxler, Berlin, Germany
Pipe Dream, organized by Night Gallery and Rachel Ufner, 170 Sufolk St, New York, NY
White Columns Benefit, White Columns, New York, NY
Fruit, Produce Model, Chicago, IL
Walk Artisanal, curated by Peter Harkawik and Miles Huston, Los Angeles, CA
2015 Awkward Threesome, with Kim Ye and Raphael Noz, Alter Space, San Francisco, CA
2276 E. 16th Street, Los Angeles, California 90021 nightgallery.ca
2014 The Cat Show, 356 Mission Rd., Los Angeles, CA
The Last Brucennial, The Bruce High Quality Foundation, New York, NY
2013 Good Intentions: Re-Imagining Rockwell's Boy Scouts, Subliminal Projects, curated by
Andrew Pogany and Ben Lee Ritchie Handler
Privilege Show, curated by William Kaminski and Evelena Ruther, Control Room, Los
Angeles, CA
More Young Americans, curated by Susanne Van Hagen, L'Enclos de Bernardins, Paris,
France
2012 Invagination, Curator Cara Benedetto, Night Gallery, Los Angeles, CA
MFA 2013 Exhibition, New Wight Gallery, UCLA, Los Angeles, CA
Pushing Painting Paradigms, curated by LaToya Ruby Fraizer, Mason Gross Gallery, Rutgers
University, NJ
Invagination: Hunger is Real, curated by Cara Benedetto, H.E.N.S. Gallery/Nail
Salon/Solidarity Center, Brooklyn, NY
2011 A Blithedale Romance, Chashama, New York, NY
Skowhegan at 92YTribeca: An Alumni Exhibition, curated by David Goodman, Wes
Miller, Kate Werble, 92YTribeca, New York, NY
Year Zero: Review of artists works participating in 2010 Studio LLC, curated by Louise
Barry, Jamaica Center for Arts and Learning, Queens, NY
BOOM: Southern California MFA Invitational Group Exhibition, curated by Ali Subotnick,
LA Mart, Los Angeles, CA
2009 Third National Juried Exhibition, Juried by Susanna Cofey, Prince Street Gallery, New
York, NY
Shock and Awe: Where the Abject and the Sublime Converge, Gatov Galleries, California
State University Long Beach, CA
A Failed Entertainment, Curated by Sam Ekwurtzel, LeRoy Neiman Gallery, Columbia
University, New York, NY
2008 Goodbye Utopia, organized by Sara Reisman, La Mama Gallery, New York, NY
2006 Lao Wais Make Art Too, curated by Joseph Ellis, The Central Academy ofFine Art, Beijing,
China
2004 748, The Cooper Union, New York, NY
SCREENINGS / PERFORMANCE COLLABORATIONS
2014 Les Fuckables Acte Deux, with Sally Spitz and Trenton Szewczyk, Night Gallery, Los
Angeles, CA
2013 S and C present G line, with Gustavo Herrera and Sally Spitz, KChung Shipwrecked at
Night Gallery, Los Angeles, CA
How to Have a Wet Dream, with Sally Spitz, Control Room, Los Angeles, CA
2012 I Hate My Racist Self, with Gustavo Herrera and Sally Spitz, INVAGINATION, Night Gallery,
Los Angeles, CA
E Pubis Unim with Gustavo Herrera and Sally Spitz Eternal Telethon at BESHT, Pomona
Museum of Art, Pomona, CA
Brutal Set by Math Bass, MADE IN LA Biennial, Hammer Museum, Los Angeles, CA
Waiting for L.dot with Michael Decker and Gustavo Herrera, curated by John Burtle,
Monte Vista Projects, Los Angeles, CA
The Sunday Scag with Michael Decker and Gustavo Herrera, curated by Action Bureau at
The Black Box with Liz Glynn
2276 E. 16th Street, Los Angeles, California 90021 nightgallery.ca
2011 Swap Meet at High Desert Test sites with Sally Spitz
2009 Work featured in Futurist Life Redux, A Performa Commission with SFMoMA and Portland
Green Cultural Projects (segment: Love Afair of the Painter Balla and a Chair; dir. Trisha
Baga)
2009 Plan B with OurGoods, Nurture Art, Brooklyn, NY, curated by Krista Saunders
CURATORIAL WORK
2014 Dreaming Wildly, Fighting To Win, with Hans Kuzmich, Critical Resistance Los Angeles
Fundraiser, The Underground Museum, Los Angeles, CA
Group show with Mathiew Greenfield, Wand Art Space, Berlin, Germany
2012 Big Dick$ $uck Money at Sax, Etc. Los Angeles, CA
2011 Circulate, Exchange, Nugget and Gravy with Mathiew Greenfield, Southern California MFA
invitational New Wight gallery, UCLA
HONORS AND AWARDS
2019 Nomination for SFMoMA's SECA Award
2017 Nomination for Paulo Cunha e Silva Art Prize
2013 Toby Devan Lewis Fellowship, University of California Los Angeles
2012 Edna and Yu-Shan Han Award, University of California Los Angeles
2010 Van Lier Fellowship, Jamaica Center for Arts and Learning, Studio LLC, Queens, NY
2008 The Sara Cooper Hewitt Fund Prize for Excellence in Art, The Cooper Union, New York
2007 Alex Katz Fellowship, Skowhegan School of Painting and Sculpture, Skowhegan, ME
SELECTED BIBLIOGRAPHY
2020 Larissa Kikol, "Politische Malerei – Redner, Statements und Gesichter", in: KUNSTFORUM
International Bd. 268 "Gegenwartsbefreiung der Malerei", S. 74-89.
Elīna Ije, "What artists are doing now. The American artist Christine Wang in San
Francisco", Arterritory, April 21
Martha Schwendener, "The Armory Show: Playing It Safe During an Unsettled Time," The
New York Times, March 6
Keith Estiler: "'Platform': Satirical Installations & Paintings Disrupt The Armory Show 2020,"
Hypebeast, March 4
Michael Slenske, "The Hollywood of Kenneth Anger's Imagination Is Coming to Life in the
Old Spago Space," LA Magazine, February 10
Lukas Hermsmeier, "Kunst der Provokation Christine Wang spielt mit Leonardo DiCaprios
Öko-Image und dessen luxuriöser Doppelmoral," January
2019 Michael Anthony Farley, "Cruising at Art Basel Miami Beach", Bmore Art, December 6.
Kate Brown, "The Art Industry Is Grappling With How to Shrink Its Carbon
Footprint. But Will Collectors Do Their Part?", artnet news, December 4.
Daniel Völzke, "Kunst und Ökologie", monopol – Magazin für Kunst und Leben, page 40,
November.
Evelyn Vogel, "Kunst im Laden", Süddeutsche Zeitung, October 22.
"Galerie Nagel Draxler eröfnet Standort in München", monopol – Magazin für Kunst und
Leben, online, September 19.
Stefan Bock, "Berlin Art Week", Der Freitag, September 14.
2276 E. 16th Street, Los Angeles, California 90021 nightgallery.ca
Paul Carey-Kent, "Social Media In Painting", FAD magazine, April 17.
2018 Margaret Carrigan, "Art Fair Survival Guide: How to See Everything Without Hating Your
Life," Observer, March 6
Sam Whiting, "Ever Gold's Andrew McClintock back in school and shopping at Fog
Design+Art,"
San Francisco Chronicle, January 4
2017 Mitch Speed, "Words // 'Actions Speak Louder Than Fonts' : Christine Wang at Galerie
Nagel Draxler", Berlin Art Link, February 20
Astrid Mania, "Critic's Pick: Christine Wang at Galerie Nagel Draxler", Artforum, February 11
2016 Editors of Cultured, "30 under 35", Cultured, December
Sabine Heinlein, "Artists Grapple with America's Prison System", The New York Times,
March 11
2015 Alicia Eler, "Christine Wang: Lust, Longing, and Politics", Crave, Dec 17
2014 David Pagel, Los Angeles Times, June 17
2013 Catherine Wagley, LA Weekly, "Downtown Exhibit Looks at Money in the Art World, From
Kickstarter to Michael Ovitz", June 27; "Norman Rockwell's Boy Scouts, Updated", July 4
2012 Jean Ezrha Black, Artillery Magazine, "Abigail DeVille/Christine Wang", Vol 7 Issue 2, Nov /
Dec
Megan Hoetger, X-TRA, "Re-performance: History as an Experience to Be Had", Fall,
Volume 15, Number 1
Catherine Wagley, …might be good, "Long Read: Growing Pains: A new biennial brings the
L.A. art world frighteningly close to being 'established'", Issue # 193, June 29